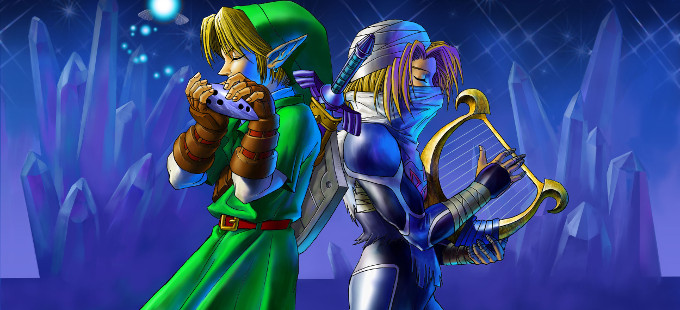 Con The Legend of Zelda Game Music Collection podrás revivir los grandes momentos de la saga del Héroe de Hyrule en sus 30 años de historia.
No es la primera vez que hablo acerca de The Legend of Zelda Game Music Collection, y hasta he compartido con ustedes el precio de esta colección de música. Sin embargo, vuelvo a traerla a la mesa debido a que se ha revelado más información acerca de ella. Entre los nuevos detalles dados a conocer es la selección de melodías que incluye, así como una serie de fotografías.
Sin duda es una compilación genial. Es lo que podemos esperar de un artículo que conmemora los 30 años de la franquicia. Consta de 93 composiciones, distribuidas en dos discos compactos. Los juegos que tienen mayor representación son Ocarina of Time y A Link Between Worlds, con 15 temas cada uno. Los que le siguen en número son The Wind Waker, y curiosamente, Four Swords Adventure.
The Legend of Zelda Game Music Collection tendrá una edición limitada de lanzamiento. Vendrá en un empaque de lujo con 16 diferentes cubiertas con arte alusivo a los mismos juegos de los que provienen sus melodías. Y como era de esperarse, habrá tiendas con algunos "extras". Amazon Japan da como regalo una tarjeta con calcomanías. Habrá comercios que otorguen diferentes bonos.
En cuanto a los temas musicales incluidos, se tratan de los siguientes:
01. Title (The Legend of Zelda)
02. Overworld
03. Underworld
04. Death Mountain
05. Ending
06. Title (Zelda II: The Adventure of Link)
07. Overworld Map
08. Town
09. Palace
10. Great Palace
11. Battle (Foreign Version)
12. Ending
13. Title (A Link to the Past)
14. Opening Demo
15. Overworld
16. Hyrule Castle
17. Boss
18. Tal Tal Mountains (Link's Awakening)
19. Color Dungeon (Link's Awakening DX)
20. Ending
21. Title (Ocarina of Time)
22. Navi the Fairy
23. House
24. Store
25. Boss Battle
26. Zelda's Lullaby
27. Lon Lon Ranch
28. Great Fairy Fountain
29. Sheik's Theme
30. Horse Race
31. Horse Race Finish
32. Song of Storms
33. Gerudo Valley
34. Ganondorf's Theme
35. Ending Credits 2 (Orchestra)
36. Majora's Theme (Majora's Mask)
37. Stone Tower Temple (Front)
38. Ending Credits
39. Ending Credits 2
40. Overworld (Oracle of Ages y Seasons)
41. Moonlit Grotto (Oracle of Ages)
42. Dancing Dragon Dungeon (Oracle of Seasons)
43. Title (The Wind Waker)
44. Outset Island (Aryll's Theme)
45. Granny
46. Great Sea
47. Dragon Roost Island
48. Helmaroc King
49. Molgera
50. Puppet Ganon (Insect Mode)
51. Ganondorf Battle
52. Epilogue
53. The Field (Four Swords Adventure)
54. Dungeon
55. Village of the Blue Maiden (Before Mystery is Solved)
56. Village of the Blue Maiden (After Mystery is Solved)
57. Realm of the Heavens
58. Temple
59. Palace of Winds
60. Shadow Link Battle
61. Beach Vacation (Navi Trackers)
62. Cross-Shaped Floating Island (Navi Trackers)
63. Title (Twilight Princess)
64. Teaser Music #1
65. Hyrule Field
66. King Bulblin Battle
67. Oshus's Theme (Phantom Hourglass)
68. Linebeck's Theme
69. Great Sea
70. Spirit Train 2 (Spirit Tracks)
71. Byrne's Theme
72. Final Session: Malladus Battle, Second Half
73. Ballad of the Goddess (Skyward Sword)
74. Great Sky
75. Ending Credits
76. Title (A Link Between Worlds)
77. Peaceful Hyrule
78. Kakariko Village
79. Meeting Princess Zelda
80. Hyrule's Bosses
81. Mother Maiamai's Theme
82. Lost Woods
83. Hyrule Main Theme 2
84. Yuga Battle
85. Princess Hilda Appears
86. Passing Battle
87. Ravio's Theme
88. Lorule Main Theme
89. Death Mountain
90. Ending
91. Main Theme (Tri Force Heroes)
92. Woodlands
93. Boss Battle
The Legend of Zelda Game Music Collection sale a la venta el 28 de septiembre en Japón. Muchas de las melodías que incluye es la primera vez que se distribuyen con calidad de sonido tipo CD. Es sin duda uno de esos artículos dignos de estar en la colección de cualquier fan de la serie, o que aprecia la buena música. Actualmente está disponible en Play-Asia, donde tiene un costo de $728.37 pesos. Gracias a Anime News Network por los detalles.