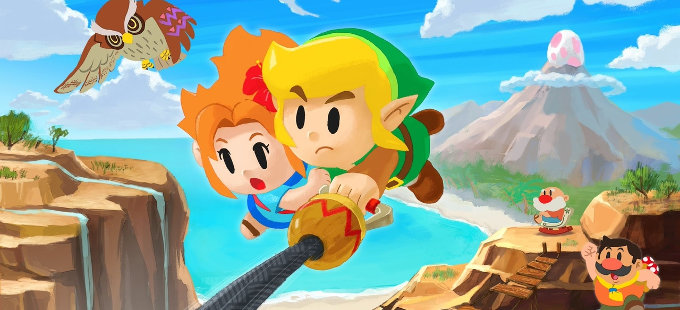 The Legend of Zelda: Link's Awakening es uno de los juegos con más ventas de septiembre y Nintendo Switch vende más de 15 millones en EE. UU.
Como cada cierto tiempo sucede, el NPD Group compartió las detalles de las ventas de juegos y consolas en los Estados Unidos. En este caso correspondientes al mes de septiembre. La gran ganadora fue Take-Two Interactive, que colocó dos de los títulos que publica en primer y segundo lugar. Me refiero a NBA 2K20 y Borderlands 3. En el tercer puesto vemos a FIFA 20 de Electronic Arts, y en el cuarto, a The Legend of Zelda: Link's Awakening.
Creo que para ser una reedición le fue bastante bien. Infortunadamente, no sabemos cuánto vendió este juego al otro lado del Río Bravo. Hubiera sido interesante saberlo. Además de esta aventura de Link, otros títulos para Nintendo Switch exclusivos en el Top 20 son Mario Kart 8 Deluxe, Super Smash Bros. Ultimate y The Legend of Zelda: Breath of the Wild. Todos ellos siguen vendiendo de forma constante.
01.NBA 2K20 (Multiplataforma)
02.Borderlands 3 (Multiplataforma)
03.FIFA 20 (Multiplataforma)
04.The Legend of Zelda: Link's Awakening (Nintendo Switch)*
05.Madden NFL 20 (Multiplataforma)
06.Tom Clancy's Ghost Recon: Breakpoint (Multiplataforma)
07.Gears 5 (Xbox One/PC)**
08.Code Vein (Multiplataforma)
09.NHL 20 (Multiplataforma)
10.Mario Kart 8 Deluxe (Nintendo Switch)*
11.Minecraft (Multiplataforma)***
12.Grand Theft Auto V (Multiplataforma)
13.Super Smash Bros. Ultimate (Nintendo Switch)*
14.Spyro Reignited Trilogy (Multiplataforma)
15.Red Dead Redemption 2 (Multiplataforma)
16.Tom Clancy's Rainbow Six: Siege (Multiplataforma)
17.Plants vs Zombies: Battle For Neighborville (Multiplataforma)
18.Marvel's Spider-Man (PS4)
19.Catherine (Multiplataforma)
20.The Legend of Zelda: Breath of the Wild (Wii U/Nintendo Switch)*
Como siempre, el (*) no toma en cuenta ventas digitales, (**) comprende las de Steam y (***) solo incluye las digitales correspondientes a las consolas de Microsoft y Sony. El Top 10 de juegos para Nintendo Switch comprende, además de los mencionados al inicio, a Spyro Reignited Trilogy, Super Mario Maker 2, Dragon Quest XI S: Echoes of an Elusive Age, Astral Chain, New Super Mario Bros. U Deluxe y Super Mario Party.
En cuanto al N3DS, su Top 10 de ventas comprende a Pokémon Ultra Sun, Pokémon Ultra Moon, Super Mario Maker para N3DS, The Legend of Zelda: Majora's Mask 3D, Mario Kart 7, Super Mario 3D Land, Super Smash Bros. para N3DS, The Legend of Zelda: Ocarina of Time 3D, Minecraft: New Nintendo 3DS Edition y Luigi's Mansion. Pero quizá lo más importante de septiembre tiene que ver con el desempeño del Nintendo Switch.
No solo la consola es líder de ventas en los Estados Unidos en lo que va del 2019 por nueve meses consecutivos. También lleva más de 15 millones de unidades vendidas en esa nación. El sistema vive un excelente momento, y al menos 14 de sus juegos llevan vendidas más de un millón de copias en ese país. Es momento de que Nintendo consolide esfuerzos y aproveche el gran mercado que tiene. Gracias a ResetEra por el reporte.